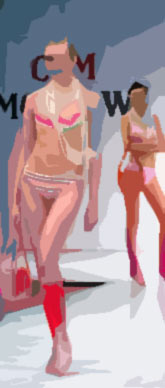 (ANSA) NEW YORK, 16 SET
-
At Bill Clinton's counter-summit is programmed a speech by Hillary: the New York State Senator will talk about global climate change. Many other political VIPs are expected to participate to what just yesterday Clinton called "not a catwalk, but a forum where concrete engagements are signed": among them Romano Prodi, leader of the Unione (editor's note: the coalition of Italian leftist parties), scheduled for a panel on religion as a source of conflict but also of reconciliation.
(AP) NEW YORK, 16 settembre, 6:24 PM EDT
–
If it's a conference on global issues, there must be celebrities. The ever-so-hot trend of famous faces showing up at what would seem to be policy wonk heaven was in full effect at the Clinton Global Initiative conference, organized by the former president. Singer Elvis Costello was spotted chatting with Clinton at a late-night party Thursday, and media mogul Oprah Winfrey attended a session on poverty. Actors Brad Pitt and Chris Tucker and hip-hop entrepreneur Sean "Diddy" Combs went to a luncheon on Friday.