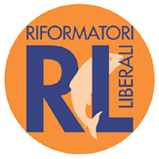 They couldn't have chosen a better headline for their first public performance. The
Riformatori Liberali
(Free-Market Reformers*) of Benedetto Della Vedova and Marco Taradash, the "right-wing" of the Radical Party, will meet on Saturday in Milan for the rally "
America, mercato, individuo
"
(America, Market, Individual)
, in which will be debated the "free-market and civil liberties reform" necessary to the government of the CdL
(Casa delle Libertà = Home of Freedoms: the name of the center-right coalition)
. An engaging program, but really very stimulating. Among the spokesmen, in addition to Della Vedova and Taradash, we point out the presence of Peppino Calderisi, Carmelo Palma, Raimondo Cubeddu and Arturo Diaconale. Among other expected speeches, those of Alfredo Biondi, Sandro Bondi, Antonio Del Pennino, Dario Fertilio, Ignazio La Russa, Tiziana Maiolo, Cristiana Muscardini, Iuri Maria Prado and Dario Rivolta. For further informations just check the website
www.riformatoriliberali.org
.
(*) "Liberale" (not Liberal) is roughly translated with "Free-Market" but a better definition would probably be "Classical Liberal". More on this subject in the next days.
(
italian version
)