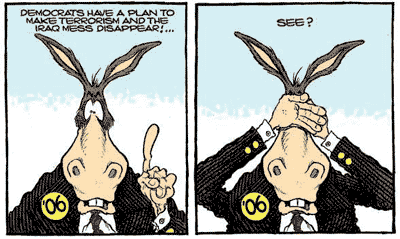 Trackback url: http://www.haloscan.com/tb/andragorn/116135441821629103/
►

[World]




►

Iraq Was a Worthy Mistake


►

Jonah Goldberg, National Review


►

The Exceptional Nation


►

Austin Bay, Tech Central Station


►

Anti-Americanisms


►

Peter Katzenstein - Robert Keohane, Policy Review


►

The Next Test


►

Michael Goldfarb, Weekly Standard

►
►

[Right]
►
Now Is Not the Time for Doom and Gloom


►

Hugh Hewitt, Townhall
► The GOP's Bad Bet


►

Charles Murray, New York Times
►
Conservative Voters Likely to Stay Home
►
Ralph Z. Hallow, Washington Times


►

Rove Foresees GOP Victory


►

Joseph Curl, Washington Times
►
Republican Base Desires
►
Dick Morris, New York Post


►

Is the GOP Losing Sight of Reaganomics?


►

Thomas Bray, Real Clear Politics

►
[Left]
►
The Coming Impeachment
►
Rocco DiPippo, FrontPage Magazine


►

Liberals Gone Wild!


►

Victor Davis Hanson, Real Clear Politics


►

Party of Protectionism


►

Jonathan Martin, National Review
► A Democrat McCain


►

Daniel Henninger, Wall Street Journal
►
Will Any Dem Seats Fall in the House?
►

John McIntyre, Time

►

Don't Expect a Political Realignment


►

Michael Barone, Real Clear Politics


►

War in New Jersey


►

David Twersky, New York Sun


►

On the Trail: Is This '94?


►

Chuck Todd, National Journal
►
[Media]
► What's Not Liberal about the Liberal Arts


►

David Horowitz, FrontPage Magazine


►
Moms vs. Hip-Hop
►

Brent Bozell III, Townhall


►

Can We Talk?


►

Thomas Sowell, Townhall
This post is an open trackback. Make a link here, (the Italian version of this blog), then a trackback to this URL and, sooner or later, a link to your post will be added at the end of this one. Other infos here. Have a nice weekend! :)

Trackbacks:
Blue Star Chronicles - Not Your Family's SUV
Mark My Words - Radical Muslims irk an ally
Planck's Constant - Michelangelo's
Mark My Words - The Old Testament and Archeology - Round 2
Blue Star Chronicles - Carnival of Blue Stars #19
DragonLady's World - On the serious side
Krillix - Caprotti: mai Esselunga nelle mani dei comunisti
Mikereporter - Quando il pericolo viene dall'Iran
Phastidio.net - Visioni
Il Pensatore - La Chiesa non è un partito ma può far politica
I Diavoli Neri - Combattere il terrorismo con ferma volontà
Il Rumore dei miei Venti - Via dall'Iraq
The Mote in God's Eye - Intermezzo: let's talk about sex...
Planck's Constant - Muslim Cabbies and Catholic Hospitals
StarSailor - Dico Bargnani
Freedomland - L'Italia siamo noi
Il Pensatore - Se questi son gli eroi dei comunisti…
Schegge di Vetro - Brutta e senz'anima
Joyce - Voglio una politica al di là delle tasse
1972 - I sommersi e i Salvati
The World According To Carl - Dr. Demento's Basement...
StikNstein - The Despot Whisperer
The World According To Carl - An Open Letter To Hillary...
Wake up America - Scare Tactics or Truth?
123beta - Open Trackback Weekend #24
Planck's Constant - How Jews Came to be the Chosen People
Woman Honor Thyself - Nostalgia OpenTrackback Weekend

Trackback URL for this entry:
http://www.haloscan.com/tb/andragorn/116135441821629103/
More Open Trackbacks:
Stop the ACLU, Blue Star Chronicles, Woman Honor Thyself, Basil's Blog, 123beta, Cao's Blog, Don Surber, Conservative Cat, The Crazy Rants of Samantha Burns, Third World County, TMH's Bacon Bits, Pirate's Cove, Adam's Blog, Stuck On Stupid, Right Wing Nation, The Uncooperative Blogger, Dumb Ox News, The Bullwinkle Blog, The Clash of Civilizations, Jo's Cafe, Mac Bros' Place, The World According to Carl, The Amboy Times, Diary of the Mad Pigeon, People Are Idiots, Church and State, Is It Just Me?, bRight & Early, Quietly Making Noise, Culturetastic, Selective Amnesia. (More at Open Trackback Alliance, Open Trackback Provider Blogroll, Linkfest Heaven).


DIGG This
/
del.icio.us